PFS Studio is thrilled that the West Don Lands is one of 25 projects world-wide to be shortlisted for the Urban Land Institute's (ULI) Global Awards For Excellence!
Viewed as one of Canada's first complete sustainable communities, the West Don Lands, now known as the Canary District, is a massive and ambitious 94 acre redevelopment of an industrial brownfield site located on the eastern edge of downtown Toronto. When complete, the West Don Lands will be home to more than 20,000 people and will be activated by lively streets of retail, office and community uses spread throughout the district.
PFS Studio was the lead public realm design consultant working within a multi-disciplinary team led by The Planning Partnership, the landscape architects of record for built work. Together PFS Studio and TPP were responsible for the creation of a distinct hierarchy of streets, signature local parks and vibrant public open spaces.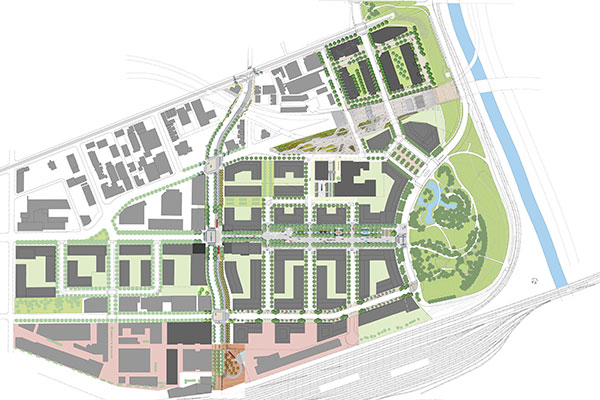 This award is widely recognized as one of the land use industry's most prestigious award programs. "The Awards for Excellence program, established in 1979 and subsequently expanded to a global program, recognizes real estate projects that achieve the highest standard of excellence in innovative design, construction, economics, planning, and management. Open to the entire industry (not just ULI members), the awards program is viewed as the centerpiece of ULI's efforts to identify and promote best practices in all types of real estate development."
Congratulations to the whole West Don Lands Team!
Developers: Waterfront Toronto, Urban Capital (River City), DREAM Unlimited, Kilmer Group (Canary District), Toronto Community Housing.
Public Realm Designers: PFS Studio with The Planning Partnership and &Co., Michael Van Valkenburgh Associates Inc., Claude Cormier & Associates, NAK Design Strategies
Architectural Design – River City: Saucier & Perrotte, ZAS Architects
Architectural Design – Canary District: architectsAlliance, KPMB Architects, Page + Steele/IBI Group Architects, Daoust Lestage, MacLennan Jaunkalns Miller Architect
Design/Builder – Canary District: EllisDon Inc., Ledcor Group
Learn more about the shortlisted projects here.
Photo by Tom Arban  |  Plan Rendering by PFS Studio